Well, tomorrow's the day. I drop my brother off early in the morning for his flight and then I begin my solo time. I already have the next two weeks' worth of meals planned. Hahah. It's going to be fun.
Since there was no way we'd have any time to go out for a meal before his flight, I wanted to take him out tonight for a 'last meal in the US' sending off kind of deal. I asked him what he might miss the most while he's in the Philippines so we could eat our unreasonable fill of whatever he chose.
Now keep in mind, last I checked the conversion of USD to PHP was $1:$49.70. The biggest, and arguably best buffet in the Philippines is in my opinion Vikings, which has locations all over the country. I went there last time I visited and I tell you, they've got carving stations and sushi stations for miles. Handmade desserts, fresh seafood, food from all different countries and cuisines, this place could very easily rival some of the best in Vegas. And it costs $18 USD. My brother will eat well and plenty while he's there. But if there's one thing we can both agree on, the quality of beef in the Philippines isn't quite the best. Blame it on lack of good pasture or too much labor, but the beef in the Philippines is always much tougher than here. So he decided he wanted to get as many cuts of steak as he could before he left.
I took him to a rodizio in our town that I used to love going to. I was more than happy to be
going back not just because the grilled meats have always been perfectly juicy, flavorful, and medium cooked, but because two years ago it burned down. The rodizio was recently resurrected this year (at a new location right across the street aptly named Choripan Too) to stellar reviews and I was so happy to be back and see that nothing had changed. It was still this homey, intimate, wood-and-brick styled restaurant with incredibly friendly staff who were more than happy to make sure our favorites kept finding its way back to our table. Juicy skirt steak, sirloin, beef rib, sausages, chicken thighs, we were in carnivore heaven. I ate so much meat I think I could have killed a vegetarian with just my thoughts. I brought a bottle of wine and my normally teetotaler brother drank with me as we toasted to his upcoming adventure. I invited my aunt (mother's sister) along as well because once my brother leaves, it will really only be us two left in the family here in the states. Hahah.
After dropping my aunt off back at her place my brother and I spent the rest of the night playing video games together and then around 2am, as if we hadn't eaten enough, we went out for our customary late night snacks one more time. We watched some of the DVR'd shows he'd have to be caught up on before leaving and now we're just relaxing. I might have to go to bed because well, I still have a life to continue on with here but my brother might stay up all night to just sleep on the plane. Though he spent yesterday downloading all extended versions of The Hobbit onto his tablet so…who knows.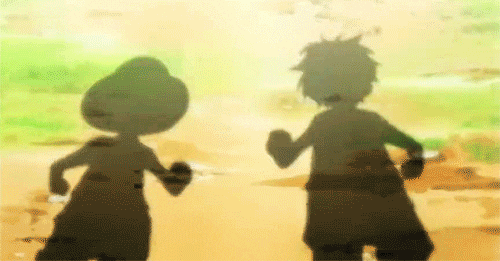 I'm glad we were able to spend the night like this. The truth is, I was hoping we could also celebrate my brother having a job when he got back from vacation. He's been sending his resume out to companies in the area, and there was even an opening in the IT department here at my company and he had an interview with them two days ago. Unfortunately the manager of the department, a good buddy of mine, came up to tell me that while he's a smart and capable young man, he simply didn't have the experience required. Which, come on, is one of the biggest contradictions of the modern job search. You need a job to get experience but you need experience now to get a job. I know we've tried to continually encourage him and all but after some months now I am sure it is beginning to wear on him.
The trip should be good for him. It's his first time travelling by himself. He's had to make sure he's packed for the next six weeks, organize all his documents, and he'll be handling check-in procedures and customs all on his own. I think it will be a good taste of independence and freedom for him. After handling this, maybe he will come back not only refreshed but reinvigorated for his job hunt. I'm also so glad that we (my father, brother, and I) decided to keep this a secret from my mother, who has expressed how much she wishes we could travel more as a family. Unfortunately I don't have the days to spare, and the ones I do have I'd rather spend exploring new territory, but I know my brother is excited to be able to surprise our mother, and I hope he takes a video. Hahah. He arrives at midnight the next day, and the plan is he'll go to sleep and then the next day just walk into having breakfast with everyone as if we were back home.
I think it's important to have those reminders that, while the world may not be calling for
us right this moment, we have the skills and the abilities and the capabilities to succeed and contribute. My brother is beginning what will no doubt be a very long and arduous but hopefully also fulfilling process of finding his calling, a place to belong and to use his talent. My brother will definitely benefit from this trip. He'll taste some freedom and independence travelling on his own, facing a fear that I know he has but is too proud to admit. I've told him to use this as a chance to explore on his own as well. He's old enough now, he doesn't have to attach his entire trip to the hips of our parents. Explore something he wants to do there, plan something for himself and spend some time with family there. He's going to make my mother very happy as well. All in all, it's a good thing. And not the least because starting tomorrow I am king of all that I survey!
Day 187
Man: 158 Loneliness: 31