So to start, wanted to say that I will once again be incommunicado from this Friday, January 6th to Wednesday, January 11th. I know, it seems like I've been in and out. These past few weeks get pretty crazy busy with me because Christmas, New Year's, and my birthday are all exactly a week apart each. Yep, that's right, Man will be turning….*drumroll*…are you ready?…27 on January 8th. That's my birthday, that's my age. (We will of course be celebrating with the late-great Elvis Presley, David Bowie, and Stephen Hawking.) I'll be headed to Atlantic City with my family, but very soon after they will all three of them (my mother, father, and brother) be leaving me alone to spend two months in the Philippines. Ah, the luxuries of owning your own business and/or being a young, unemployed, recent college graduate.
Me, I will be back at home, living alone, normally ecstatic to the idea of having the house all to myself, with all of its normal inhabitants gone.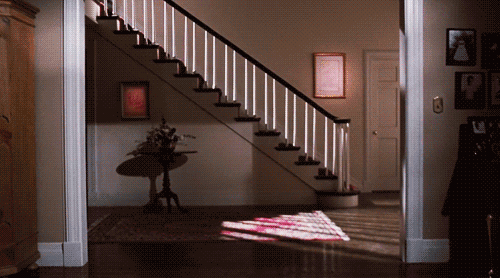 But circumstances are a bit different this year.
Last year my parents took my brother and his friends to Vegas for two weeks and I had the
house to myself for then. I loved it because Beautiful and I had just started our relationship and now here we were with an opportunity to basically live together uninterrupted for two weeks. We slept together, showered together, and cooked together (I made pasta from SCRATCH and ricotta cheese from MILK and we made ravioli like goddamn MARTHA STEWART). I also used the opportunity to have my annual winter hot-pot dinner/sleepover with my friends. That's
always fun and it's a great time to relax and let loose. Since everyone stays over we get to drink just a tad bit more than usual and we get just a tad bit crazier than usual. The hot pot is a great way to just keep eating all night and since we cook it in boiling water that we flavor with different Chinese pastes and spices, that technically counts as staying hydrated, no?
So what's changed?
Yes obviously I am single, that's the big one. I'm not lamenting not having Beautiful around, it's more like that anxious feeling of FOMO. You know, Fear of Missing Out. Like, here I am, in the prime of my life, with this time of independence and freedom, and I don't have anyone to spend it with or celebrate it with. These are the feelings I knew would show up eventually during the course of this year-long experiment. That feeling I can't shake of 'come on, Man, this is the time you're supposed to be out there and enjoying yourself!' The temptation, especially with Valentine's a month away as well, has never been higher to get back on some dating site and just find someone to be with to not be with no one. Two months of the house all to myself and, if you'll allow me this small primal indulgence, I feel like I should be having some company over to avail myself of such luxury and pleasure! Ugh. Is it such a terrible way to be, to feel? Hahah.
Take comfort and solace in the company of friends though!
Yes, I will still use this time to have another hot pot sleepover. I got some great new drinking games for Christmas that I cannot wait to play with my friends. But with our careers having taken us further out and with my one friend in the excitement and thrill of his new relationship and my birthday coming up, I can't help but reflect on my friendships and connections and wonder if maybe I've grown out of it in some ways. I've seen some great blogs and great writers on here wrestle with their own friendships and feeling they've put in more than they've gotten or that their trust has been misused or taken advantage of. There's been this inkling in the back of my head for a while that has taken deeper root in the past couple months, now that I've been spending more time reflecting and working out my thoughts.
I think, and strongly believe, that both this loneliness from lack of romantic relationships and doubt of friendship stem from the same thing. For a very long time now, (179 days perhaps?) I've felt starved of any strong, deep, emotional, and mental connection. I've known some of my friends since elementary school. We've been together for decades now (weird I can now afford to make that kind of distinction). But we've never really been able to talk about anything of substance. They are great for some drinks, some adventures, and to pass the hours shooting the breeze until 3 in the morning. But, devoid of so many of the life experiences and passions I have chased after all my life, we can't speak to each other of the deep and profound and emotional and heart-wrenching moments and thoughts. I used to find all of that in my relationships. It was a happy balance of satisfying all the sides of my self by finding the right company in each. But now I am without relationships (but still happy and content, mind you, I am still strongly on this path) so I have to look on my friends and then I see and wonder, has our relationship, has our depth, has our conversation, never progressed past our student lives?
I never got a merry Christmas from any of them. Or a happy New Year. In October I wanted
to watch scary movies and play scary games so I kept asking everyone to hang out and they canceled on me all month. I decided there are only so many rejections a man can handle before his pride and dignity are hurt so I took a break in November and decided to let them organize and call us all together to hang out. Instead I spent the entire month by myself because no one did. No one even noticed. I didn't see them again until the Friendsgivingmas that I still was the one to organize a week before the date. I wonder if, left to their own devices, they'd ever try and reach out first. I've celebrated each and every one of their birthdays. I even took them to Atlantic City each time they turned 21. They've never organized anything for mine. I find myself today texting and reaching out and clamoring to try and organize something before I leave for my birthday trip to see them and go out for dinner.
Without a romantic relationship to rely on like a crutch, I have only my friends and family. My family will be gone, and so I only have my friends. And even then now, I wonder sometimes about the company I keep.
I'll tell you what though, because I refuse to give this day to Loneliness. I'll tell you what I'm gonna do the next two months. I'm going to play music really loud and sing to an empty house. I'm going to dance in my underwear through the halls. I'm going to cook some crazy-ass stuff I've been wanting to try but no one has tastes for. I'm going to roast bone marrow. Cook lamb. I'm going to use the MeetUp app and find local groups of board and card gamers and hang out with them a few weekends. I'm going to watch movies by myself. I'll catch up on all the shows I'd been waiting to watch. I'm going to do all this because if I don't I'll drive myself crazy and because this will help me stay sane and still appreciate my boring but oh so lovable friends. Hahah. I'm gonna be okay in 2017. I'm gonna be okay at 27.
Day 179
Man: 148 Loneliness: 31